Aluminum plate&bar coolers feature a wide variety of thermally efficient internal and external fin patterns. Fins are laid between aluminum braze sheets and fitted with header and face bars. The assembled unit is placed into one of our modern brazing furnaces where precise control of time and temperature produces a unified core. Manifolds designed to meet each customer's particular piping requirements are welded into place to complete the cooler. We can also supply cores when manifolds already exist or must be fitted in the field.
These strong, compact, light-weight coolers are ideal for both on- and off- highway markets. We can also supply the complete cooling package consisting of a combination of coolers, fan guard and motor.
From small individual coolers to large complex engine cooling systems, Better-Tech can design and manufacture the heat transfer solution that's right for you. Our engineering team is continually developing additional fin geometries to improve heat transfer efficiency so we can meet or exceed your expectations.
Engine cooling systems
· Radiators
· Aftercoolers
· Combination coolers
Aluminum Plate Bar Coolers Producing Process:
Blanking -> Fin Punching - > Cleaning - > Core Assembly- >Vacuum Brazing ->Part Machining
-> Welding-> Pressure Test -> Drying ->Overall Inspection- Painting -> Packaging
Aluminum Plate Bar Coolers Structure: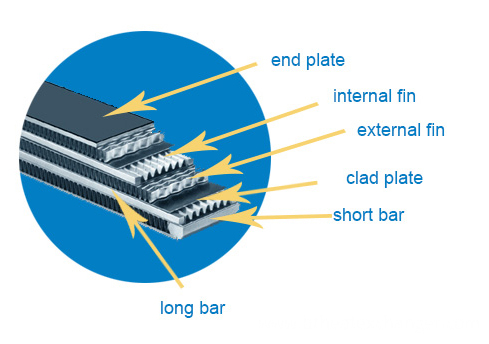 Aluminium Plate Bar Coolers Application: